GOLD MEDAL WINNING PRICES (27 Jul - 30 Sep 2012)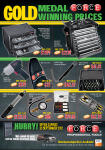 Here at FORCE TOOLS AUSTRALIA we are excited about the start of the Olympics so we have dedicated the next promotion of FORCE TOOLS to the 2012 Olympics.

After 69 days traveling the length and breadth of the UK, the Olympic Flame takes to the River Thames on the morning of Friday 27 July.

13 million people have lined the streets of the UK to show their support.

The Flame will arrive at the Olympic Stadium tomorrow evening during the Opening Ceremony, where the cauldron will be lit and stay alight until being extinguished on the final day of the Games.

We'll be right here watching the events as they unfold, so sit back grab a Force Tools bargain and let the games begin.
---
Click Here for a downloadable or printable copy of the GOLD MEDAL WINNING PRICES